It was so long ago that I saw L and Hoshi's japanese curry from their blog. I've wanted to try making myself since then. But somehow, it takes really longer for me to actually finally decide on getting something done.
Rica announced. Today shall be Japanese Curry Day! I even went to check the price and type of products at different places, like a few days ago. Meaning, thursday go here to see the price of vege. Friday go there and see the price of curry. It took me about a week before the big day comes.
*cheers* Rica finally got her ingredients. Thanks to some of the grab-and-go traits I've learnt from Ben. We are going to need some meat, onions, carrots and potatoes for this curry.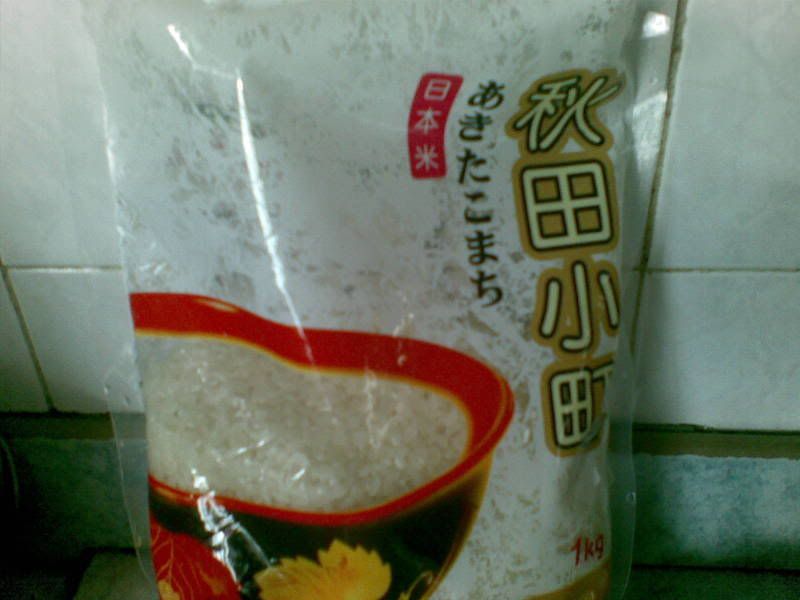 I even bought some Japanese short grained rice. I actually wanted to make sushi with it another day. But I guess that day will come in another week or so.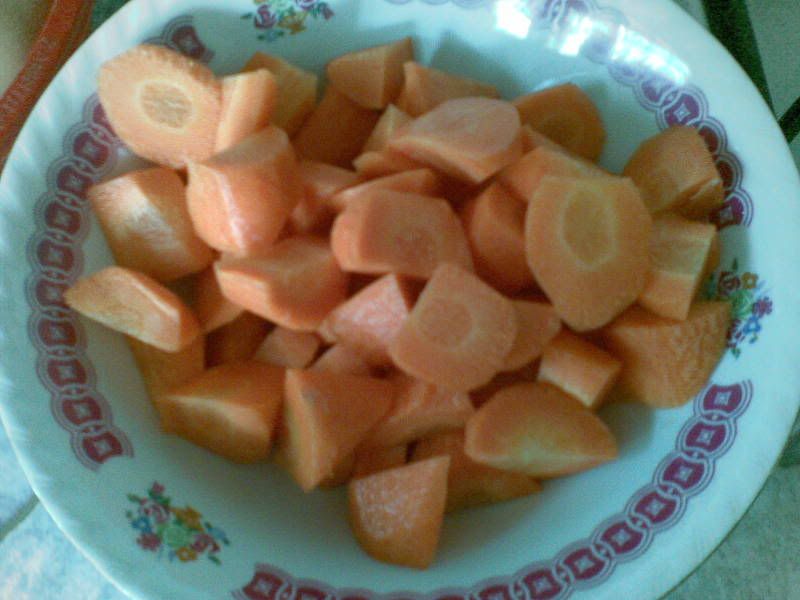 Now, now. It's time to cut our ingredients into small cubes. Just anyhow cut them into small small!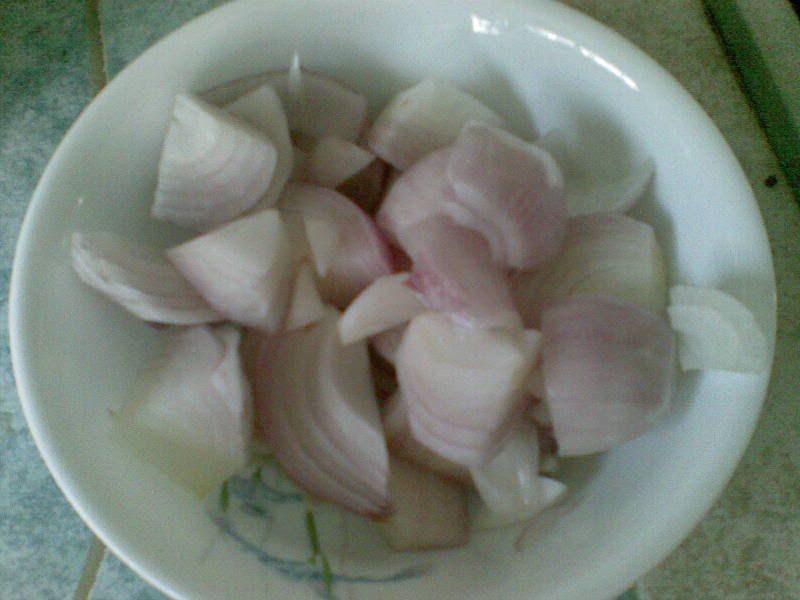 I think my ingredients are a little too much. But more is better! Haha.
I really love potatoes. So I actually added more. Ya, I mean MORE. Lolx.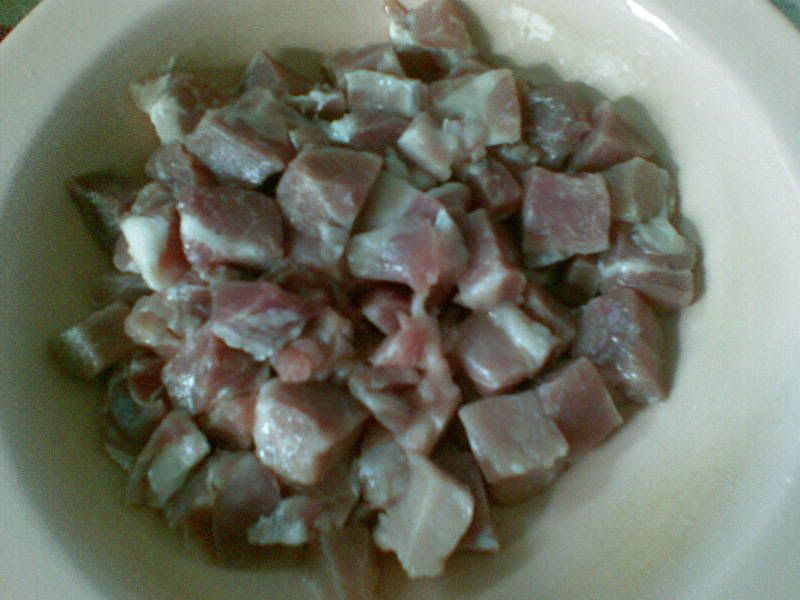 I've bought the kind of cubed meat, so it saved me the trouble of cutting it. Cutting meat is quite a chore.
Alright! Now we have the ingredients ready. It's time to cook!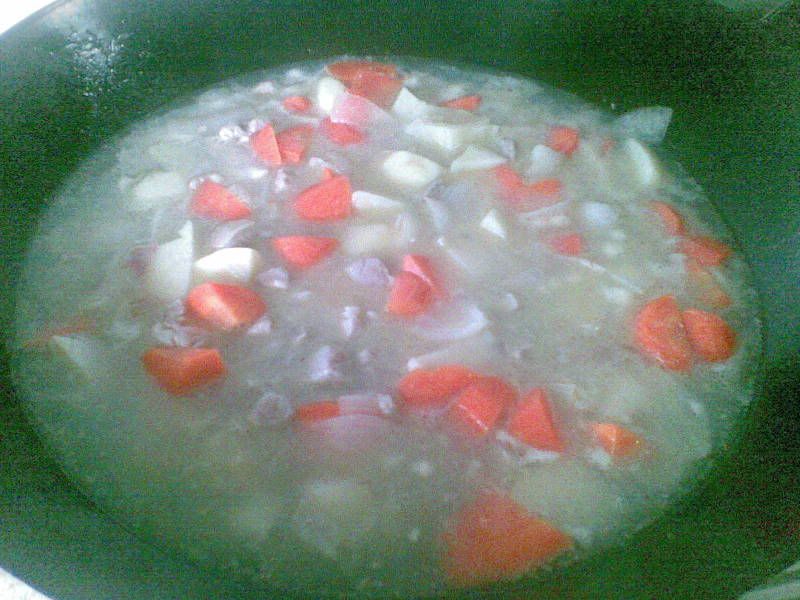 Well, things got alittle crazy, but still I managed to get to this stage. Basically, you just stir fry all the ingredients and you add water after that.
Then, add in the curry cubes into the stew, and the curry is done. It looks kinda yucky after leaving it for a while. But it's really nice.
And I am the kind of person who like to flood my bowl with curry. Just like I'm drinking it. Why not? Curry's so nice! Haha.
I should really buy and stock up lots of curry at home so I can drink them anytime. Lolx. Have a yummy day!

j0tt3d @t 11:29 AM
Have you ever wonder what is actually in the sales person's mind when you ask them for something? Here's some of the examples from eRica's point of view. Haha. Just read for fun ya~

Customer : Can you help me cut this?
Staff : Yes, sure. Please wait for a moment.
Thoughts : Don't these people have knives at home?

Customer : How much is this? (pointing at the fridge in front of us)
Staff : (bending over) Which one are you referring to?
Thoughts : I cannot fucking see the thing you are pointing at.

Customer : Is it still hot? (referring to the waffle)
Staff : Yes, of course. I just lifted it from the stove.
Thoughts : It's even hotter than you are. You want me to smack it against your face to prove it to you?

Customer : How much is this? (pointing at the product with the price tag right in front of it)
Staff : It's $x.xx. (trying to keep the smile on)
Thoughts : As these people blind or retarded?
Customer : Oh. It's written here! (trying to read the name)
Staff : Haha. It's ok.
Thoughts : Ok. (S)he's retarded.

There are more extreme cases to be elaborated the next time. So the next time you wanna say that Singapore's service has become worse, please bear in mind the quality of the customers is not that good as well.

j0tt3d @t 1:55 PM
All singaporeans are going crazy over the Macdonald's Coke Glass. Being a regular customer of Macdonald at CompassPoint, I realised that here are more people around during lunch. On top of the regular people, there are these people queuing for the Coke Glass.
I see students walking around CompassPoint, swinging their hard-earn Coke Glass. I see aunties examining the Coke Glass while waiting for their partners to get the sauces. I see the Macdonald cashiers asking old aunties whether they wanna upsize their meals for the Coke Glass.
Though it's not as bad as it was the other time with the Hello Kitty, somehow I see how singaporeans actually get motivated/fascinated by free stuffs.
Join in the Macdonald Coke Glass Craze, people!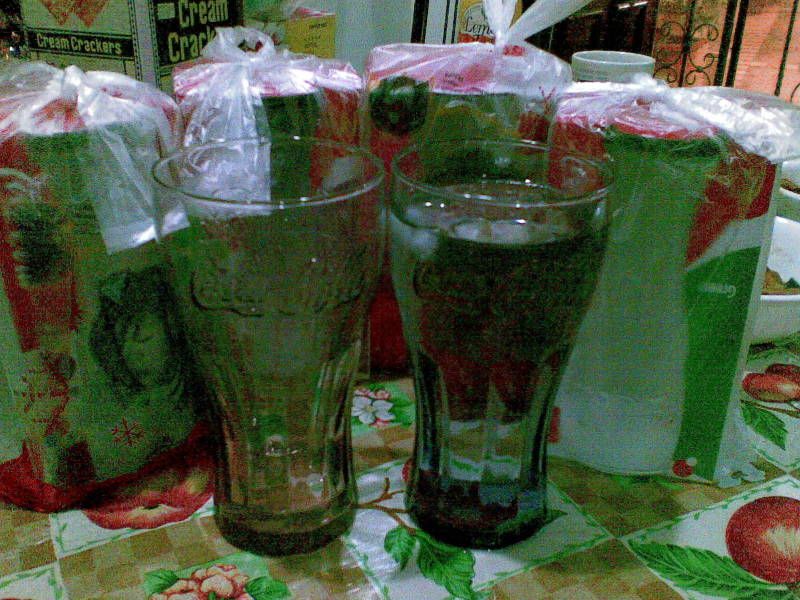 j0tt3d @t 10:39 PM
What does Customer Service really mean? Once, Ben actually asked me that, and I told him it's probably how well you can tolerate when a customer is trying every way to spoil your mood. But he told me it's just selling a product that the customer is satisfied with.

Either way, I think working in the customer service line makes me grow wisdom everyday. (That's why my wisdom tooth is coming out soon. =.=)

That day, I went to Macdonald during my lunch break. It was flooded with people, most probably because of the lunch hours and the Coke Glass. It's quite fun seeing the staffs trying hard to serve their customers.

I would smile seeing them trying to get my order correctly. I would laugh seeing them getting irritated by my special request.

I'm starting to realise that getting upset because something someone did is really stupid. Especially during work. There is absolutely no reason to be upset over something a customer did.

I mean, it's totally not worth spoiling your own mood for that kind of people, if you know what I mean. Recently, I realised I start telling my collegues, "I saw this weird idiot who blah blah blah... Lolx!" instead of "Can you believe what that customer just asked me to do? WTF!"

Next time you see me working, I will most probably be humming my favorite song and enjoying my customers' every stupid move. Lolx.

j0tt3d @t 1:53 PM