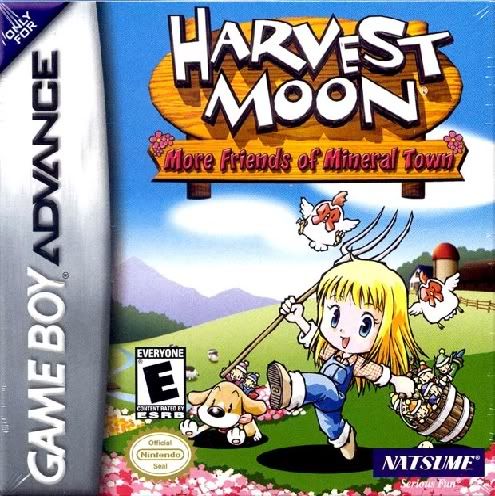 I confess, admit and am proud to be a
Harvest Moon Fan

.
As much as Benben hate me to be growing veges everyday on my PSP,
I love Harvest Moon!
I love every version of Harvest Moon. Though I still remember the first time I saw Harvest Moon, was when my cousin playing it on PS1.
It seemed really lame to me at that time.
But, BUt, BUT! It's so addicting once you play. Especially when you can bring it everywhere you go.
Benben : Can you dun everyday grow vege with your PSP?
eRica : But very fun lehx.
Lue Song : Never mind. Dun grow vege, pat cow lo~
Dont pat cow also can. I hug doggie~
Hahax. But Benben loves me so much that he even downloaded this for me!
I believe it's the newest PSP Harvest Moon, 'cause it's still in japanese, and it's 3D. Well, I understand like 80% of it so far. It's just another version of Harvest Moon, in 3d, with some part time jobs? It's quite fun. Harvest Moon are all fun! Hahax.
But the best version of Harvest Moon would be
Rune Factory
. I almost wanted to buy a NDS just because of the game (cause it's only in NDS). I searched the internet for PSP, and even tried converting NDS game to PSP(.iso). But none worked. Then, I found this.
Rune Factory in Wii~! Well, I've tried hunting for it at SimLimSquare, at the same time we were looking for game console. No luck. BUT! The other day, I saw it at Compasspoint Comics Collection! It made me wanna bang my head on the wall.
WHY DID I ACTUALLY BOUGHT PS3 INSTEAD?!
At that very moment, I've decided. I am going to buy Wii with my next paycheck. I dont care about what other people says about wasting money.
I WANT MY RUNE FACTORY!!