I think I'm kinda of addicted to blogging.
I'm like scheduling entries for tomorrow,
the day after, and the day after after,
so I dont have to really update them everyday.
YET, there will be new posts everyday. Haha.
Tell me I'm crazy.

Two days ago, on the 13th March, was
Ben's POP, aka Passing Out Parade.
But to be exact, he wasnt in the parade.
He was injured AFTER his field camp,
quite badly that he need not join the march.
Actually he just didnt wanted to join.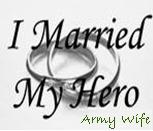 To be honest, it was really boring to be there.
I mean, even if Ben was in the march, it would
still be the same. We'll be watching so many
green men marching across the parade square,
not knowing who is who.


I almost wanted to play with my PSP.
But Mommy got tired and I got to carry
Daven~! We were like dancing, when they
played "Congratulation" by Cliff Richard.
He was like so happie lahx. Laughing like
people were congratulating him.

Not your birthday yet, you know, Daven.
Should have taken some photos, or even
videos. But my hands were full.
Daven's getting heavier by the day.
Time for refreshments~! That's the best part,
I think, seriously. It was BeeHoon with curry!
With hotdog, chicken wings and spring roll.
Quite nice, but I was really full. Even after
our refreshments, we had to wait for them to
finish counting arms before we can go back.

Well, that just ended another post. Haha.
Blog Addict.