The longer
you are on Planet Earth,
the more you will understand
that
there are a lot
different kind of people
living together in this tiny place.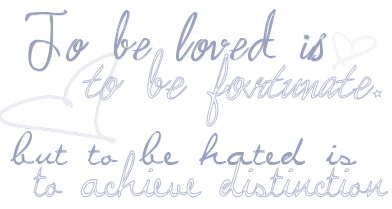 There will be people who
hate you inside out
,
people who
hate you but keep it in them
,
people who
hate you yet pretend to like you
,
people who
doesnt like you yet bearing with you
,
and people who just
love you with all their hearts
.
Actually, these people
DO NOT

matters at all
.
You have to live with them, in this tiny little planet.
Whether you like them or not.


Love yourself, before making others love you.


学着喜欢自己,才决定要不要讨好别人。
Random-su


I'm sleeping alot more than usual.
[And eating more than usual too.]
I went to school todae.
[Just to skip my class and slack at Block E]


I'm wasting my life away.
[Murder me every chance you get.]