Exactly
a year ago
, I went to
StudioWu
for the
very first time
. With Kennyzz that is. Till now, I still
thank him from the bottom of my heart.
But somehow, I can feel that
things had changed.


I've
stopped going to Swu
since I dunnnoe when. It's like a silent break-off. Honestly, I dont really like it that way. But what's done cant be undone. It would hurt more, if I went back again. But I miss them so.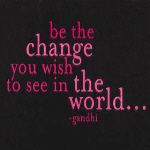 Kennyzz & gang.
Somehow I can feel that everyone's drifting away. Though we still chat and laugh like no one's business in lectures, I can feel that, we can never have a heart-to-heart conversation.

Along the way,
I've changed too
. From the too-self-conscious & not-so-expressive weird girl, to a Be-yourself, too-stupid-silly-dumb, & over-noisy weirder girl.
But I guess that's not really a bad thing. At least I've learnt
to be true to myself
and alot more. I just wanna be someone who always can make others happie, and be happie myself.
[やさしい人を大好きですから、やさしい人になりたい。]
Must-go Outings next month
Suki Restaurant.
[I wanna eat salmon till I'm full. No. BLOATED.]
Swimming.

[At night. I dont wanna be dark again. T_T]
Arcade~!!!!

[I am definitely going to get the card this time~!]
AMK Hub

[For my lovely bubbletea-sssssss~!]
Tibits Party

[With lots of tibits, movies and laughters.]
Must-buy next month
Hair accessories.
[I need it, yet, I'm not getting it. =S]
Portable Hard Disk

[I officially declare my thumbdrive FULL~!]
PlayStationPortable

[Ya, with bling bling as diamonds.]

#Random#

I'm doing my best living my life.
[So I wont regret if something dont go my way. I'll work harder.]

Sometimes, I dont even understand myself.
[Tell me what is this feeling inside.]

Food is a remedy for all emotions sickness.
[I love fish, salmon, and Idako~]

I am so going to get the TIBITS at sk basamalam.
[For our upcoming tibits party.]