Though I think todae is
not the actual bdae
of his, I still wanna wish him this
BIG BIG
Happie Birthdae~!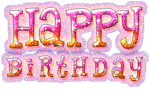 *teeheeheeheehee*
I think you guys really
smell like
yummy cakes
after the celebration.

Went for
yummy yummy dinner
with
Jimmy, Jeremy, Dave, Alex, Eric and couple.
*teeheehee* They had
durian
after that.
You guys should really just
kiss Dave
. XD
Strange things is that they really
treat me so nicey
. =D
Honestly, this semester
my timetable
has been
messed up seriously
. I thought that AC is the last class
I wanna be in. But now, I guess
I'm glad to be in their
class
most of the modules. Compared to AF that is.


*teeheeheehee* I like AC as much as AE.
XD Maybe alittle more though. X)
Disgusted Food
= Dave - Durian
= QiQi - Almond Jelly
= Eric - Beanspout
= Jeremy - Pig's Liver
= Unknown - Roasted Pork
= Unknown's Fren - Seaweed
(Just a little thing I wanna note todae, the date is
05.06.07.
*heehee* I'll look forward to next year's 06.07.08. XD)
[You'll never know until you try.]