HAPPIE APRIL FOOL TO EVERYONE!
Actually I didnt really like
this festive. I believe this is
the most boliao festive of all,
cause I was always the one
being tricked. *gong gong face*
__-_--__The Tricks__--_-__
1. Cedric - told me he dropped
his psp, and spoilt it. I really
believed it. 100%. =.=
2. Lingx - told me her period
hasnt come for 3 mths. Believed
it for a second. But she would
have say so earlier. 'cause i was
chatting and sms-ing with her earlier.
But THIS YEAR, I tried tricking
people too!! Though not ALL believed
me, at least some did!! YAY!
This is the only dae you can lie
to your dearest frens and family.

--_-__--The Tricked--__-_--
1. Xiaohong. Opps. Sorry to pick
you as my first victim. I told him
I anlian him for very long liaox.
I guess he believed that for a moment,
and realise it at the next. In the end
he told me even if it's true, he got
no feeling for me. =.=
Hey mister. next time wanna reject gals,
please be more gentle lahx. like that
say maybe that gal very sad go jump building
jump sea jump MRT how? den u murderer liaox!
2. KennyZz. Thx to him, I realised the greatness
of MSN. I told him I dislocated my knee and may
have hurted my ligament. He BELIEVED me!! I'm so
happie! He gave me alot of omgs and was really
concerned. Thx, dude. Even though it was for ur audi.
3. Eleanor. I used Lingx's trick on her.
3 month with no period. She didnt take it
to heart no matter how hard I try to convince
her it's true. She can even ask me whether
is it koi or kio! omg. wad a fren man.
This is my dinner tonight. To prevent
serious prank on myself, I've decided to
stay home and that's the only thing I
can eat. Too hungry. Only left half cup.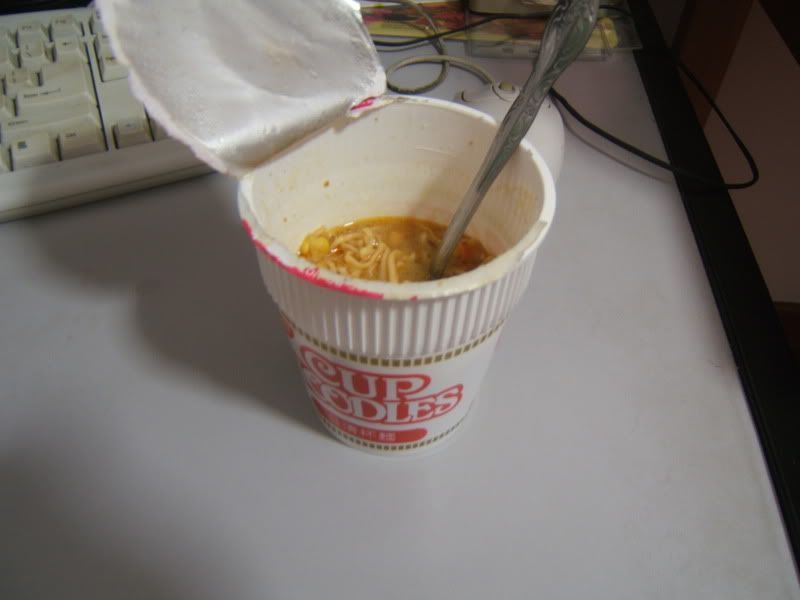 [Trick or be tricked]