The lesson todae is talking
about wad gives an instant
headache. Timetable Planning.
And it's really effective.
Was planning that stupid timetable
yesterdae midnight. Lesson learnt.
Never plan your timetable during
midnights. You can never sleep
after that. I guess I was kicking
'cause I woke moi Mom up.
Most of moi modules are with AC,
cause they have lots of vacancies.
Plus, I took a core 3 module as
1004 has no vacancy and 2002 requires it.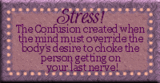 I guess this timetable planning
makes me think alot. Suddenly,
I dunnoe wad I really want.
Continue studying? Or going
straight to work 'cause it
brings money? If I were to
continue studying, what do I
wanna work as after that?
All of the sudden, problems
are arising. I realise I'm
losing interest in everything,
and it hurts. Everywhere.
Lesson learnt. There are many things
that you have to be independant about,
because nobody on earth will be able
to give u ANY help.

[I need a sign, maybe a map.]