I didnt realise at all that
todae is actually the last
dae of FEBUARY when I created
the draft. I was shocked when
I saw the date on moi desktop
after 12 midnight.
On top of that, I'm having exam
on the 1st of March. I was like "
Oh Shit~! the exam is todae?"
when i thought it was like next
week or a few daes later.
hahax. to think that FEBUARY
actually ended just like that.
Let's look forward to March, k?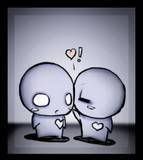 面白い事を楽しみに持っています。