Love this picture so much.
though I wasnt with them. XD
Max.
Went to meet Max and Ric at TPY.
After he finished making his bank
card, we went down to Joey's house~
(I'm still amazed by how the people
can give him the new card immediately)
Nua-ed at Joey's place for awhile.
Almost fall aslp cause of the 'nice'
lighting she has at home. LOL! But is
Kenny who off it. hahax.
Also realised that Ric can be really sweet
like Yutaki. Cause the first and last time
I saw him, we were at kbox. so didnt talk much.
But todae realise that he will talk to people
in such a soft and gentle voice like Yutaki lehx.
LOL! Onion, next time i introduce Ric to you lahx.
After that went to Vivo's Akashi to have
dinner. hahax. sorry ar. no pictures
available. cause i lost my phone and
my sister took moi camera away again. =.=
And then is shopping! yay! though i have
no money and nothing i wanna buy,
shopping just rox! hahax.
Yay! Then finalli the movie!! Ahhh~~
L so handsome! Light also so handsome!
But I like L more! Ahh~~ But in the
end, both die~ so sad. Almost cry lehx. T.T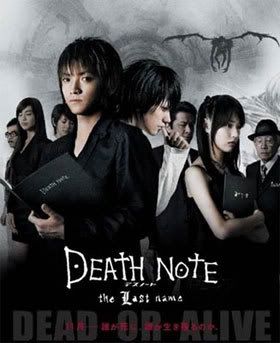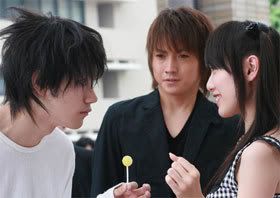 But still nice! LOL! I also got
Christmas present! LOL! This year
Xmas so mani presents! Potato, Onion,
Pepper, Salt, Max~ heehee~ Ginger
simply LOVES Christmas!